Fedorovs` dynasty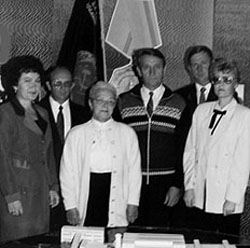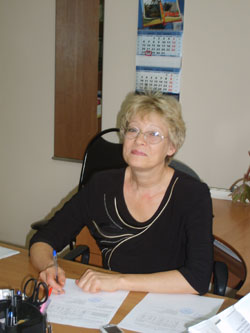 But in the heart 20 as before!
How fast the years run by, as winds above the prairies. More and more crow`s-foot appear in corners of eyes more older and independent children become. It seems that only yesterday the final bell rang, entering examination went, but pickaback there are already and thesis defence, and marriage, and birth of children and their Day of Knowledge - September 1. The years run, as waves, and grind the pebble of human fates into fine sand. An anniversary comes and with it the memories about the past come.
In the end of the summer, on August 31 Lyudmila Vladimirovna Fedotova, engineer on staff training of training center joint stock company "Orenburg minerals" was born. It is said that women who was barn in the end of the simmer have got particular features: their souls are full of summer sun, and eyes - of autumn charm. Lyudmila Vladimirovna seems to me such woman. Her low, calm voice and wonderful eyes prepossessed and charmed.
How many interesting events happened in the destiny of this fascinating woman! Her parents, Vladimir Alexeevich and Anastasia Grigoryevna Patrins lived in Guy and raised three children: sons Vyacheslav and Alexander and daughter Lyudmila. After school Lyudmila entered the Guy branch of Orsk industrial technical school. In 1978 she married with her fellow-student Alexander Fedotov and they celebrated student nuptials.
After receiving an education they worked at the Guy concentrating combine. Alexander Eygenyevich was a electrical fitter, Lyudmila Vladimirovna - operator of filter-dry house. Soon a daughter Marina was born. It seemed that everything was as with other, but in their fate abrupt turn had happened.
In that years young specialists, who had a professional education and experience of work in industry, were directed on business for exchange of experience abroad, to socialist countries. To get such business was very difficult and very prestigiously. And Fedotovs had luck: after long-time discussions the Administration of Guy combine direct abroad Alexander Eugenyevich. At the family council it was decided to go together, because all difficulties were overcomable. In 1981 Lyudmila Vladimirovna and Alexander Eugenyevich with their 2 years old daughter went to Mongolia.
The business trip lasted four years, but they had no time for boring. The work was very interesting and engrossing, climate, dress, customs and habits of new friend and colleagues were unusual. Intercommunion and cooperative work united. Many things in Mongol history and culture were unknown and incomprehensible, but very interesting for Russian people.
Soon there were no any language barrier which may prevent the intercommunion. They exchanged not only by experience of work and scientific achievement, but also by recipes of national cuisine. Most of all Lyudmila Vladimirovna remembered national Mongol holidays. They were very bright and theoric. Every holiday was the real fairy show of colors and costumes! Ti live among people of other culture, to learn their customs and habits was very interesting. But by the end of 1985 the business trip was ended and the family came to Yasny where by that time their parents and elder brother of Alexander Eugenyevich with his family had moved. A.E. Fedotov entered to work as master to the factory and Lyudmila Vladimirovna became an engineer at the auto transport enterprise. After a year, in 1986 in Fedotovs family a son Andrei was born.
Twenty years intervened. Marina got an education, married and gifted a granddaughter to her parents. Now she lives and work in Orenburg. Andrei finished technical school and works at the combine. By the way the parents didn`t insist on higher education. "When he understand that it is necessary to learn further, he will learn himself without our instruction and moral teaching. Man must stand on own legs in choice of his career" - they think.
Children left their nest and became independent. But parents` heart is full of love, care and troubles about them. And while thin crow`s - feet doesn`t allow to forget about spent years, in the heart and soul Lyudmila Vladimirovna is only twenty!
Janna Vinogradova